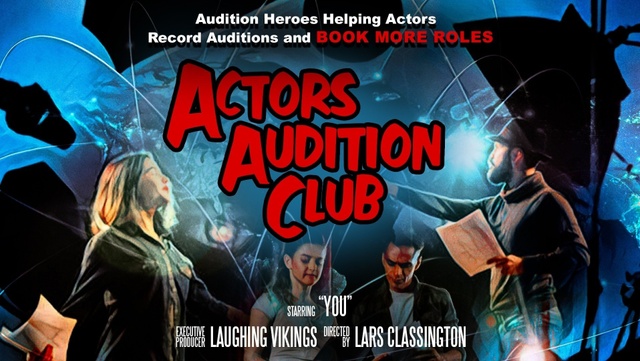 Shoot Auditions in Less Time so that You Can Hit Tight Deadlines, Submit Your Best Takes and Book More Roles.
Join Today & Get Your First Audition Coaching Session For $1
Join Actors Audition Club for $1
Actors Audition Club Members have

Booked Roles On:
Why Actors and Agents are Raving About This
Extraordinary

 Membership:
"You've changed my life! 
I can't picture doing this any other way. It's just very fun to work with you. We make a lot of magic!"
-Chris Sandiford
(What We Do In The Shadows, Moon Fall, Shelved, God's Favourite Idiot)
"They treat my audition as if it is their own.
I don't know what I would have done without them. It's like the universe knows exactly what I needed in every part of life. It was such a pleasure working with them. They were part of my success and they have been with me since day one."
-Jereen Ignatious
(Auto Shankar, Seethakaathi, Kaala)
"My agents are always pleased with the quality.
They work with you to enhance your performance, make suggestions, and never rush. Booking online is easy, even same day, and membership saves you money. You guys always make great suggestions...things that I hadn't considered before. It's just fun! It's fun to play!
-Phil Luzi 
(Bad Blood, New Eden, Terrific Women)
Transform Your Auditions & Elevate Performance with Actors Audition Club
Establish PROFESSIONAL First Impressions with Casting & Production
SAVE TIME by shooting with Film, Theatre & Casting Professionals. No More Wasted Time with Untrained Family & Friends
Showcase Your Best Takes, Meet Tight Deadlines. Your Agent Will Thank You!
FULLY EXPRESS Your Authentic Talent & Bold Choices for Casting! 

PLUS...We Take Care of Editing & File Transfer so that You Can FOCUS on Performance & Have More FUN!
Actors Audition Club Members Get:
Discount Audition Coaching Sessions. Need help shooting an audition? Members SAVE 30% OFF audition coaching sessions. Connect with one of our audition directors 7 days/week. We rehearse, shoot and edit so that you can create standout auditions, get more callbacks and book lead roles in dream projects.
Monthly LIVE Audition Workshops.  Training and Q&A sessions to share audition tips, strategies & industry trends. Group coaching to help you improve your auditions and book more roles. Can't make a live session? Watch replays in your members area.
ACCESS to Online Training Portal. Curated from hundreds of live training sessions, these videos walk you through how to improve your auditions techniques, strategy & mindset, plus advanced camera tips and audition advice. New training added monthly
Private Members Community. Join our international community of growth-minded so that you can connect and collaborate to share resources and support. 
"I love the comradery and the coaching.
They always know the right thing to say. They give it a framework. They really make you feel like you are doing your best work. They really want to see the success of all actors."
-Adam Daniel Mezei
(The Ace & The Scout, Execution Tryptych, Isthmus)
"Always takes me to another level."
Way more relaxing, more comfortable and more conducive to how I like to work. I've been getting way more response. Working with you has been sick!  
-Chris Robinson
(The Boys, Workin' Moms, Pillow Talk, Odd Squad)
"You can be in control of your auditions and submit what you want casting to see at the end of the day.
The nerves of doing in-person much can be alleviated when they're able to prepare a self tape."
-Carolyn Sterling
Agent/Manager-Grand Wave Entertainment
"They want you to bring your best effort each and every time. It's a great atmosphere.
Energy is everything and your thoughts are things, so when you are with good energetic and enthralled people, you know that you are going to do a great job!"
- Shaquille James-Hosten
(12 Monkeys, Murdoch Mysteries, Beauty and the Beast)
5 Common Myths that
STOP

Most ACTORS from Getting What They Want:
"I can't afford to INVEST in my career until I book more roles."
You DON'T need to spend thousands to create the AUDITIONS you want! You can get started with the equipment you already own, your mobile device, or at the very least, spend less than a few hundred dollars to get to that next level!
"My training as an actor has a completion date."
Wrong! As in all areas of life, those that continue to learn, adapt and grow will thrive the most! The demands of an acting career keep us all extremely busy, but you simply can't afford to ignore your own growth any longer. And if you learn how to do it the RIGHT way, auditions get easier and easier to record.
"My career as an actor is all about WHO I know."
Stop waiting for someone else to "discover" you and go after what you want. Every business starts with "what you know." We know how overwhelming auditions can be. This is why we show actors that the right mindset, systems and processes. It CAN be simple and fun! And today, technology like mobile devices and simple editing platforms makes it easier than ever before!
"I'm a great actor, BUT I'm just NO GOOD at auditions."
Until you are getting direct offers or creating your own roles, your job as an actor is to be an AUDITION PROFESSIONAL! Not mastering your audition system IS the bottle neck that will slow any actor down. This is why we show our members simple tips to improve your audition process and save you hours of time WITHOUT sacrificing the quality of your work!
"My career as an actor is a solo journey."
Anyone who ever did anything truly great will tell you it took teamwork! If you aren't building a team of people to support your audition process then you have a long lonely road ahead of you. Joining a supportive community that you can rely on to shoot auditions will help you get better results in less time.
- Paula McNeill
(Schitt's Creek, Titans, Hemlock Grove)
"So much better than fighting with my husband about his lack of reading skills.
Wonderful experience and great people! So great to be introduced to Laughing Vikings and have a safe space to play :)"
- Steve Patterson
(The Debaters)
"An audition tape I am proud of.
Lars ran a fabulous session, allowed me to indulge all my own choices and gave excellent notes that I immediately incorporated. He also read as a convincing 12 year old girl (a testament to his own talent and range!) In the end, we came up with the rarest of things that I will actually watch again myself because it was a fun and rewarding experience."
Actors Audition Club Membership
Join Today for Just $1
Test Drive the Entire Membership Program for 30 Days
JOIN AAC TODAY FOR $1
QUICK START BONUS:

Free Audition Session
To Guarantee You Get Started the RIGHT Way, We'll Give You Your FIRST SELFTAPE AUDITION SESSION FREE When You Join Today (Value $49-$89)
NEW MEMBER BONUS #1: 
Home Studio Buyers Guide
Need a home studio makeover but not sure what gear you need? No problem! Use our home studio buyers guide to level up your home studio gear in just a few clicks! (Value $49)
NEW MEMBER BONUS #2:
Agent 101 Masterclass
Attend our virtual masterclass showing you everything you need to land new representation or improve your relationship with your current agent. (Value $197)
NEW MEMBER BONUS #3:
Audition Checklist
Take the guess work out of your audition process. No more winging it! Professionals follow repeatable systems and processes. Use our audition checklist as a jumping off point and customize it to fit your needs and preferences. (Value $49)
NEW MEMBER BONUS #4:
Free Acting Workshop with Tom Todoroff!
Join an acting workshop with acclaimed director Tom Todoroff. Each workshop is 3 classes in one: Voice & Speech, Text Analysis PLUS Scene/Monolog Study with Tom! (Value $97)
All the risk is on us with our No-Risk 30 Day Test Drive! 
Join Actors Audition Club today for just $1 and if you are not 100% thrilled with your decision, just email Customer Support at [email protected] within 30 days to let us know you wish to cancel your membership. After 30 days you may keep your membership for just $47/mth. You may cancel anytime by emailing us, but we will be sad to see you go :(
Meet AAC Founder:
Joey Freddy Larsen
In 2009 I was in a corporate career with a nagging knowing that I wasn't following my dreams.
So I made the decision to start a life on stage and film as an actor, comedian and creator.
First, I answered a Craigslist ad "So You Wanna Be a Comedian?" resulting in an exhilarating standup debut. 
Three months later, I was a warmup act for "London Tonight with Jeff Leeson" which led to a gig as writer, announcer, producer and opening act on standup tours. 
In 2012, I moved to Toronto to do standup every night and start working in TV & Film.
Highlights So Far:
Acting with Jason Momoa on his epic series "SEE" (APPLE+)

Playing "Lou The Main Man" on Oh Yuck! (NETFLIX)

Cast member on Almost Genius (CMT CANADA)

Lead in an episode of Fear Thy Neighbour (DISCOVERY)

Recording my debut standup album

 

'

Silly Goose'

 in my hometown

 

Orillia, ON.
Laughing Vikings and Actors Audition Club launched in 2017 to produce live comedy, theatre, tv, film, commercials, voiceovers, podcasts & digital media.
Our mission is to uplift, inspire and empower a global audience by helping actors share their stories in film & live performances.